What will my child build?
The best part about learning here is "No Prior coding Knowledge is Required"
The entire course starts from the basics on how to code and is loaded with fun experiments that your child will enjoy. Each chapter will teach a new concept to your child and let him/her build an App thats fun and useful. Once learnt all concepts, imagination is the only limitation to build more wonderful Apps and solve Problems.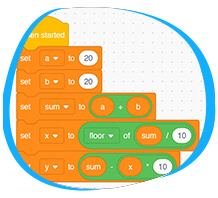 Robotic Calculator
Navigate the Robot on a grid based on the Math operations using Coding!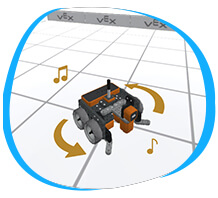 Dancing Robot
Code your Dancing Robot to create some cool Dance Moves!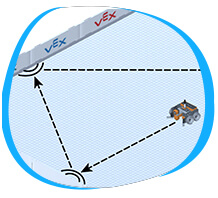 Vacuum Cleaner Robot
Program your Robot to move like a Vacuum cleaner in a room!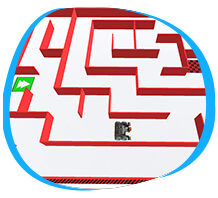 Maze Solver
Program the Robot to move through the maze from Start to Finish
What's The Benefit For My Child?
The courses are specially designed by experts for ages 10+ to engage them well and useful. Coding and STEM Skills are essential skills for your child, but that's not the only benefits your child will get. Developing interpersonal skills through the hands-on experiments is the highlight of this course
Sign Up to create an account and start your learning journey with SP Robotic Works.
01
Once you are logged in, activate the course by providing the necessary details.
02
Once the course is activated, start learning to code and build several Real World Applications.
03
HOW ONLINE LEARNING WORKS?
SP Robotic Works has India's best Online Learning Platform for practical learning with 1:1 Personalized Guidance, animations, real-world examples, assessments, reports, fun activities, gaming and more. Your child will have fun, while learning happens in the background.
A Tech Expert from the Product support Team is always available for you through text, video and even a screen share support. You can ask any question, any number of times, until you learn and master the course.
Sparky, our AI Teacher, is intelligent enough to adapt to every child individuality based on the questions they ask and the speed at which your child learns & masters each module. The sessions are interactive using animated videos in a structured way.
At SP Robotic Works, its all about Practical Learning! Learn all the concepts using our Structured methods and see your robot come to Life using the Coding knowledge your child has learnt and implemented!
With our structured learning, your child can build 25+ Coding applications like a Dancing Robot, Maze Solver Robot, Vacuum Cleaner Robot and several such applications. The course starts from the basics on how to code and is loaded with fun experiments that your child will enjoy
Once you have registered for this course. your child gets access to this course and learning for a lifetime. The class is AI Powered and hence, always available. You child can learn and build projects now and continue even when school starts.
On completion of the complete course, your child will not just learn to code and build many interesting, useful and fun projects, but will get a Course Completion Certificate from SP Robotic Works. So, you can show-off to your friends and colleagues what your child has achieved.
Over 1 Lakh+ Parents like you from all over India have enrolled their child at SP Robotic Works and were thrilled with their child's progress and enthusiasm to learn and explore tech.
SCRATCH PROGRAMMING FOR JUNIORS FAQ
FREE ONLINE COURSE TO LEARN AND CODE 25+ APPLICATIONS
What are the fun things my child will learn?
In this course, you get to explore what is a Robot using the magic of Coding vis Scratch Programming! Here you get to learn basics of Robots like understanding different sensors like Color Sensor, Distance Sensor, Bumper Sensor etc and also different aspects of Coding like Conditional Statements, Loops. Math Operators etc. The best part is that you get to make your Virtual Robot literally do anything from a Dancing Robot to a Vacuum Cleaner Robot! How cool is that?
Is it tough for my child?
Oh no! These courses have been specially designed for the respective age groups and we have seen average academic performers excel in this practical learning. Your child is sure to do wonders with this kit - Get ready to be amazed!
Will I get a Certificate after Completing?
Yes, ofcourse! After you finish all chapters, you will get a certificate. You can also submit a video of your practical project to get a Master Certificate.
Should my child have prior coding knowledge?
Not at all! No Prior Coding knowledge is needed. The course will be taught from the basics and it will be complete fun for your child.
How is it useful for my child?
This course has shown clear improvement in a child's Creativity, Focus, Logical thinking and Problem solving skills. But thats not all, Coding is the future and your child will be one-up from the others. Let's ensure your child has all the fun for his/her age but still learns the essential skills for a better today and tomorrow.
Is the course completely free?
The first few chapters are free to start off. Your child can start Coding for an application in the first few chapters. If you feel your child is interested, and wants to continue learning Coding, you can purchase the entire Certified course.
What if there are doubts while learning? How to clarify?
There is 1:1 Personlized Guidance with the Product Support team through text, video and screenshare support from our tech experts available from 10am to 8pm (Monday Holiday). You can clarify all your doubts here
Why Scratch programming?
Scratch is the best and popular programming Language easily understandable by children of ages 7+. To help your child understand even better our Coding platform offers to experiment their output using a Virtual Robot to see how they have coded! Concepts related to Navigation,Sensors, Physics etc. will be learned as and when they progress, discovering true learning while they have fun doing real time experiments such as Maze Solver, Dancing Robot etc.
What is the syllabus for this course?
Introduction to Robots & Scratch Programming
Maze Solver Robot using Robot Movements & Navigation
Coding Your Dancing Robot using Finite Loops
Vacuum Cleaner Robot using Conditional statements
Coding your Robot Army using Sensor based applications
Robotic Calculator using Math Operations in Coding
What are the things required to learn this course?
This course does NOT NEED any kit/hardware. It's completely online and the platform is completely web-based and no software downloads are required. A desktop computer or Laptop or Tablet (both Android/IPad) with a good Internet connection is required to learn the course and to use the coding platform. Please don't forget to use Google Chrome browser to learn Online.
For Android Tablet - Supported OS Version: Android 6.0+
For IPad - Supported OS Version: iOS12 or higher
What can I make after I finish this course?
Coding is a life skill and you have merely started off with a drop in the ocean! There are so many experiments that you can still do using the Virtual Robot like building Self-Driving Cars, a Delivery Robot, an Obstacle avoider robot, Parking assistant robot and 25+ more such projects!!
Will there be any robot offered for purchase along with this course?
Unfortunately no- this robot only exists on the Coding platform and there will not be any robot sent to you for learning further! However,one's imagination is the limit! So, keep coding !
Every Child Deserves The Chance To Learn
The Largest Tech Community spread across nations, actively sharing Ideas and Innovating Solutions to Real-World Problems!